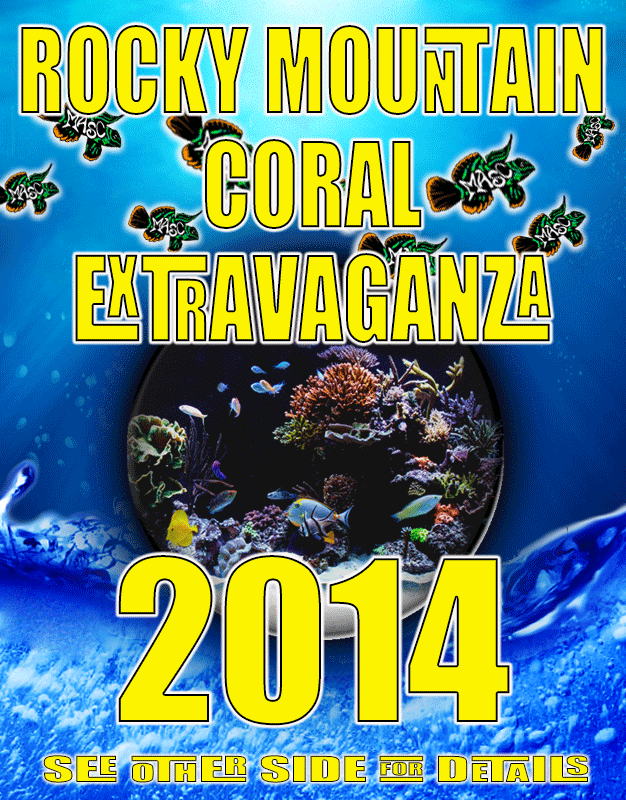 What:
The 2014 Rocky Mountain Coral Extravaganza
When:
Sunday November 16th
Where:
The Ranch - Larimer County Fairgrounds @ 5280 Arena Circle, Suite 100 Loveland, CO 80538
CLICK HERE FOR MAP
Open To Public Time:
1pm-5pm
Schedule of Events
1:00pm - Doors open to Public
1:30pm - Educational Demo #1
2:00pm - Raffle #1
2:30pm - Educational Demo #2
3:15pm - Educational Demo #3
4:00pm - Raffle #2
4:30pm - Educational Demo #4
5:00pm - Doors Close to Public

Educational Demos:

still in process of planning

* Educational Demos and Raffle times subject to change

Coral Sales:

- You know we cant have an event without corals sales!!!!!! We have nothing short but the top coral vendors coming to the event who will all have their frags tanks packed!!!!!

Entrance Fees:

- $1 per head for badged MASC member, spouse, child or significant other
- $5 per head for registered MASC member and general public
- Free - children under 14 years
* Badged MASC member means you have either paid your annual $24 in annual membership dues or attended two MASC meetings in prior 12 months. Also must present MASC membership card

Vendors In Attendance:

Gonzo Corals
Algae Barn
Coral Xpressions
The Fish Crew
Mind Blowing Corals
The Coral Shop
Ambrosio Aquatics

Keep checking back for more info and vendors as you know it will be a full house!!!

STAY TUNED AS YOU KNOW THIS WILL END UP A LONG LIST and CLICK HERE FOR MORE INFO AND UPDATES!!!